Two Floors Down: The Proper Procedure for Flood Remediation
4/17/2018 (Permalink)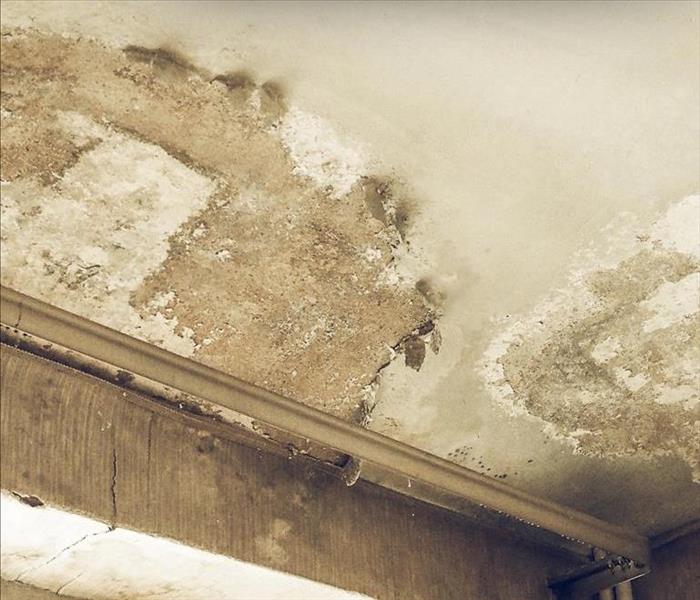 When you walk into your business in Prescott, AZ, one morning, you see something that no business owner ever wants to see. There is a new water stain on the ceiling right below where the restroom is located, indicating that you may have a flooded toilet upstairs. Sewer damage is not a problem you want to leave unresolved. To address it, there are a few crucial steps to follow.

1. Call a Sewage Company That Specializes in Flood Remediation. The first step is to call in the experts. They have the knowledge and experience to test damaged areas for contamination, which is likely with an overflowing toilet. They can also assess how extensive the damage is and what it may take to fix it.

2. Remove All Affected Items. Some items with sewer damage can be disinfected and salvaged. Before the cleaning process can begin, however, the items that cannot be saved must be removed. The flooring on which the flooded toilet sits and the ceiling of the floor below must be removed. Damaged walls and wet insulation must also be torn out. If any items, whether part of the building structure or those within it, are damaged beyond repair, technicians can discard them safely.

3. Disinfect and Clean the Entire Area. Sewer remediation specialists clean everything that remains so that it is not a danger to people who enter the building. They can also test the building to ensure that the cleaning process was successful.

4. Replace Parts of the Building Structure That Were Discarded. The remediation process is complete when everything is dry and the floors, ceilings and walls have been replaced. It is then safe to work in the area again.

If your business falls victim to sewer damage that affects two floors, you will likely need help removing all the damaged parts and replacing them. A water damage remediation company can help get you up and running again by following the proper procedure. For more information about commercial restoration, visit http://www.SERVPROyavapaicounty.com/.