Pump Choices for a Flooded Basement
7/23/2018 (Permalink)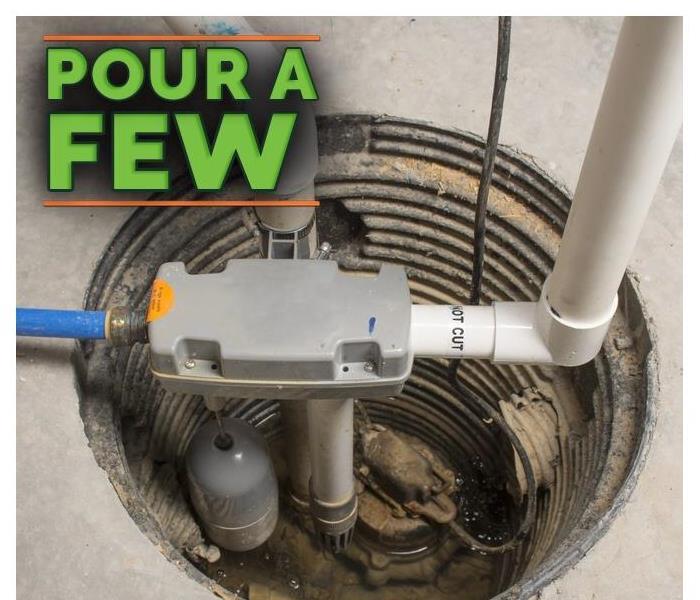 You can check if your sump pump is free of obstructions by pouring a few gallons into the basin. #SERVPRO
There is a storm raging outside in Prescott, AZ and your basement looks like a small lake. When you have a significant amount of standing water in your home, what is the best equipment to use? Three main types of pumps can get the job done, including the sump pump, trash pump and truck mount.

Sump Pump

• Most commonly installed in residential basements as a flood precaution.
• Water enters the pump through waterlogged soil or drains. The excess water is then pumped away from the house, most often into the yard.
• Electricity powers the pump and centrifugal force is used to push water through the pipe.

Trash Pump

• Often used when water has already flooded the premises.
• Simultaneously pumps out water and debris. After a storm, flood water may include debris such as trash, sticks, mud or leaves.
• A trash pump is portable and powerful. It can run off of electricity, batteries, gas or even solar power.
• Pressure and rotational force are used to move the water and debris through the pipe.

Truck Mount

• This pumping equipment is capable of moving a large amount of water, such as several feet or thousands of gallons.
• Mounted on a truck, the pump can easily be driven to any location.
• Works quickly and efficiently with high water volume using long-reaching, vacuum-powered hoses.

The amount and type of flooding present in your basement in Prescott, AZ determines the best pump type to use. As soon as you notice a basement flood, take action. Immediately arrange for a water restoration specialist to extract the excess water from your basement before further damage occurs. The water damage restoration company assesses the situation and chooses the most appropriate pumping equipment for the job. Once the water is removed, your basement is dried using dehumidification tools and air movers. Your basement is then cleaned, deodorized and sanitized before the process of restoration begins. Visit http://www.SERVPROyavapaicounty.com for more information on storm damage.