How to Safely Approach the Cleanup Process After an Electrical Fire
1/13/2022 (Permalink)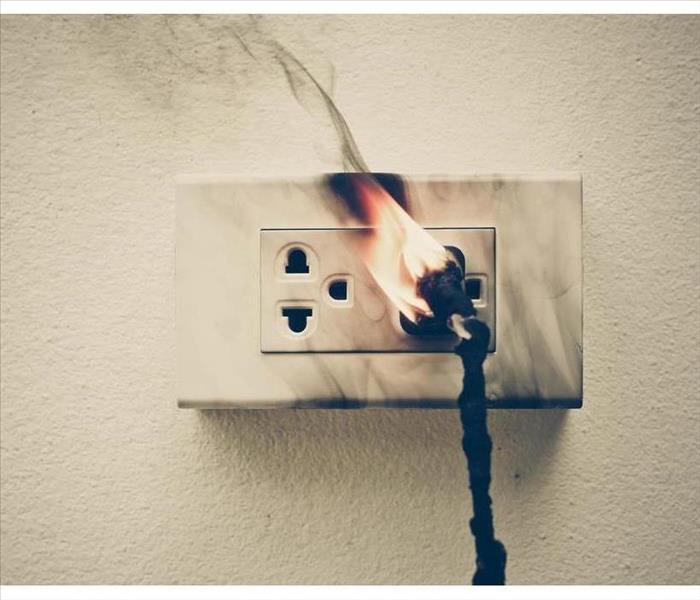 Removing ash and smoke from electronics requires special equipment and qualified experience. At SERVPRO we are ready to help you.
How To Handle The Cleanup After An Electrical Fire In A Safe Manner
It is a common misconception that an electrical fire can only take place in an old building. Aged wiring and damaged outlets are often blamed for the ignition of these dangerous fiery outbreaks. But old wires are not the sole cause of electrical fires. Learn how these fires can start, and what to do after a fire has occurred at your Montezuma, AZ facility.

Prevent Fires by Identifying Electrical Hazards

The best way to avoid a commercial fire incident is to watch for the telltale signs of danger. Before an electrical fire breaks out, some recognizable indicators of electrical hazards may be lurking below the surface. Watch for these key indicators of electrical problems:
Frequent breaker overload
Hot or smoking light fixtures
Sparks from electrical outlets
Loud popping sounds when turning on or plugging-in an appliance

Approach Cleanup With Caution

If your commercial business has fallen victim to a workplace fire you should begin the cleanup process immediately, but approach with caution. Hiring a fire cleanup crew is the surest way to protect and possibly save electronics that have taken fire damage. Electronic devices and machinery are very susceptible to irreversible damage from flames, smoke and soot. Avoid operating or turning on any electrical device that may have been exposed during the fire. Wiring that has been burned or received smoke damage could be at risk for further danger. Stay safe by hiring professionals.

Seek Electronic Restoration

When looking to clean and restore workplace belongings and electronics, professional fire restoration services are essential. Electrical devices require special care to prevent further damage or total loss. A restoration team can evaluate the effectiveness of computer cleanup efforts and determine what is salvageable. Removing ashes and smoke from electronics requires special equipment and qualified expertise.

After an electrical fire, the cleanup process should be left in the fit hands of trained professionals. Working with the right tools and know-how, these experts can address all of your commercial fire concerns and restore a clean and safe environment.